What's New with DUSA Members
Dear DUSA Members and Friends,
In today's "What's New with DUSA Members" session, we are pleased to share with you the exciting news from our long supporting member - ruhlamat.
October 25th, 2018 | Suzhou, China
"2018 Industry 4.0 Application Conference" Held in Suzhou
"2018 Industry 4.0 Application Conference"was grandly held at the Kempinski hotel in Suzhou Industrial Park on Oct. 25th, 2018. Nearly 300 experts, scholars and enterprise representatives attended the conference, including guests from Chinese and German governments, German Chamber of Commerce, German Fraunhofer Institute, Tongji University Modern Manufacturing Technology Research Institute, Hong Kong Productivity Council, and Brose (China) and Festo (China). They made deep analysis and discussions on the application and future direction of Chinese manufacturing industry under Industry 4.0.
"2018工业4.0智能制造发展应用大会"于2018年10月25号在苏州工业园区凯宾斯基大酒店隆重举行。来自中德双方政府、德商会、德国弗朗霍夫研究院、同济大学现代制造技术研究所、香港生产力促进局、博泽亚太区总部、费斯托(中国)有限公司等近300名专家、学者和企业代表出席了本次论坛,共同对工业4.0在中国制造业的应用及未来方向进行了深入的分析和探讨。
Best application, Best sharing
萃取行业智慧、聚合跨界经验、把握智造未来
This conference was hosted by ruhlamat Automation Technologies (Suzhou) Co., Ltd., guided by Suzhou Industrial Park Administrative Committee, and jointly supported by Sino-German Intelligent Manufacturing Research Institute, Suzhou Alliance of Industrial Internet, and Suzhou Industrial Park Artificial Intelligence Industry Association. It is one of the few platforms which are sponsored by a foreign-funded enterprise in the automation industry. ruhlamat is in line with the German craftsmanship spirit to "concentrate and innovate", aiming to advance the application of intelligent manufacturing in the industry and to assist enterprises in improving the competency levels of "intelligent manufacturing" upstream and downstream industry chains. Industrial companies are driven to develop intelligent manufacturing as a new form of production to integrate various areas of design, production, management and service as an all-embracing system.At the conference, a total of 9 experts and scholars delivered their speeches. They took the equipment manufacturing and automobile industry as application scenarios, focused on interconnected intelligent factories, service-oriented manufacturing and supply chain coordination.
此次大会由儒拉玛特自动化技术(苏州)有限公司发起主办,苏州工业园区管委会指导、中德智能制造研究院、苏州市工业互联网产业联盟、苏州工业园区人工智能产业协会协办,是自动化行业为数不多的以外资企业为发起人的论坛平台。儒拉玛特本着德式"专注 创新"的工匠精神,旨在推进智能制造在制造产业中的应用,协助提升企业在上下游产业链的竞争水平,努力构建智能制造产业与相关行业融合发展,促进智能制造企业在设计、生产、管理、服务等领域的广泛交流与合作。现场9位业界专家和学者从装备制造与汽车产业为应用场景,聚焦互联智能工厂、制造服务化、供应链协同各方面进行了深度分享。
Dr. Thomas Knothe from German Fraunhofer Institute stated that we had an increasingly higher standard towards flexibility and convenience. Hearted with a topic - what kind of technology we needed to achieve flexible and agile industrial manufacturing. He then shared the intelligent application fields in Germany, elaborate in details how to achieve intelligent manufacturing and his thoughts of integration levels in the future, and shared with the present guests the techniques and methods of Industry 4.0.
来自德国弗朗霍夫研究院的Thomas Knothe博士表示现代人们对灵活和便捷的要求越来越高,他以何种技术来实现柔性和敏捷工业制造的话题进行开篇,分享了在德国的智能化的运用领域,详细阐述了智能制造如何实现便捷制造以及对未来集成水平的畅想,同时也给在场嘉宾分享工业4.0的技术和方法。
Alexander Möckel from Brose (China) analyzed the changes brought by Industry 4.0 from the perspective of global automobile suppliers. He took Brose as an example, showed the applications of Industry 4.0 and digitalization, and pointed out that "Human beings are in Era 1.0 and industry has already entered Era 4.0". He believed that Industry 4.0 should be integrated into our mindsets and applied to a wider field.
博泽亚太区总部Alexander Möckel从全球汽车供应商的角度分析了工业4.0所带来的变化,以博泽为例展示了工业4.0以及数字化的应用,并指出"人类在1.0时代,工业已进入4.0时代",工业4.0应当融入人类思维,应用到更广阔的领域。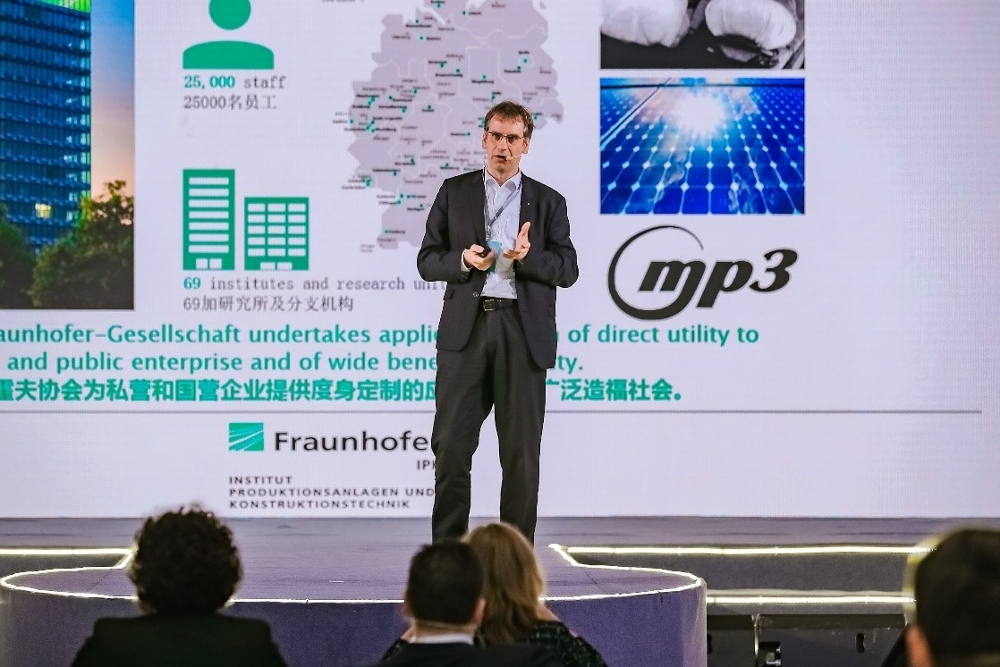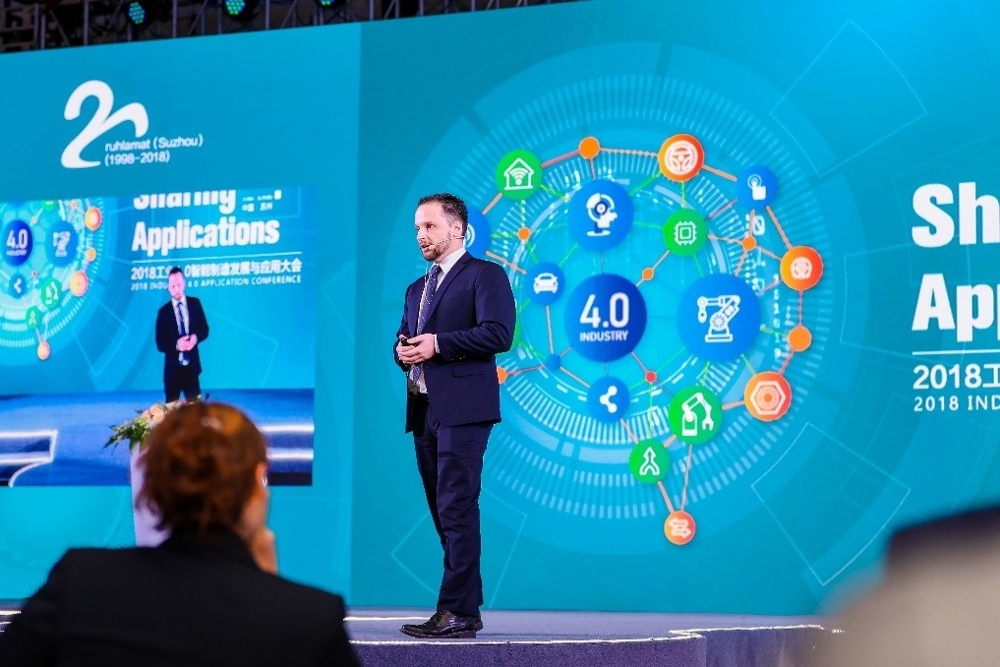 On the subject of "Planning, design and commissioning of manufacturing system under Industry 4.0 - new and rapid methods for risk reduction", Professor Zhang Weimin of Tongji University and Christopher Ehrmann of Tongji University amtc analyzed the production requirements of the Chinese market on customization, modularity and new technologies, shared the Sino-German cooperation project I4TP, introduced Industry 4.0 modules, and showed various cases in turnkey projects. They believed that the cooperation and innovation between German and Chinese enterprises were one of the most efficient ways to reduce risks. Meanwhile, they would also work with ruhlamat together to launch Industry 4.0 cooperation projects.
同济大学张为民教授以及同济大学amtc 的Christopher Ehrmann就"工业4.0下的制造系统规划设计与调试运行-新的和迅捷降低风险的方法",分析了中国市场对于定制化、模块化、新技术的生产需求,分享了中德合作项目I4TP、介绍了工业4.0模块,并展示在交钥匙工程领域的丰富案例,认为中德企业合作创新是有效降低风险的途径之一,并将与儒拉玛特联合开展工业4.0合作项目。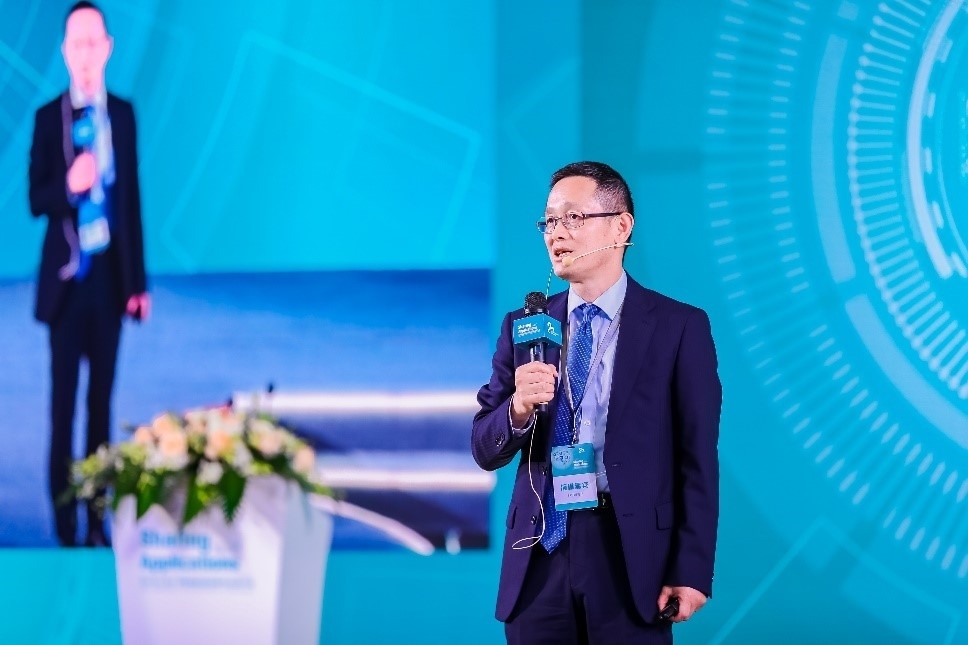 Mr. Lai Wing Cheong from Hong Kong Productivity Council took the view of the current trend of Industry 4.0 in the Hong Kong industries, shared the rich experience in Industry 4.0 of Hong Kong enterprises, and provided abundant reference and learning experience on Industry 4.0 for manufacturing enterprises in mainland China.
香港生产力促进局的黎永昌先生从目前工业4.0在香港工业行业的发展态势,香港企业在工业4.0领域积累的丰富经验的分享,为中国内地的制造企业在工业4. 0领域提供丰富的参考学习经验。
Mr. Zhang Wenjun from Festo (China) explained how digitalization can help intelligent manufacturing in the future from digital strategies and digital tactics. Through the sharing of practical application cases, the learning, construction, inspiration and operation of digital tactics were clearly and vividly explained.
费斯托(中国)的章文俊先生从数字化战略,数字化战术层面阐述了数字化如何助力未来智造。通过实际应用案例的分享,非常清晰易懂地讲解了数字化战术的学习,构建,灵感,运行四个维度。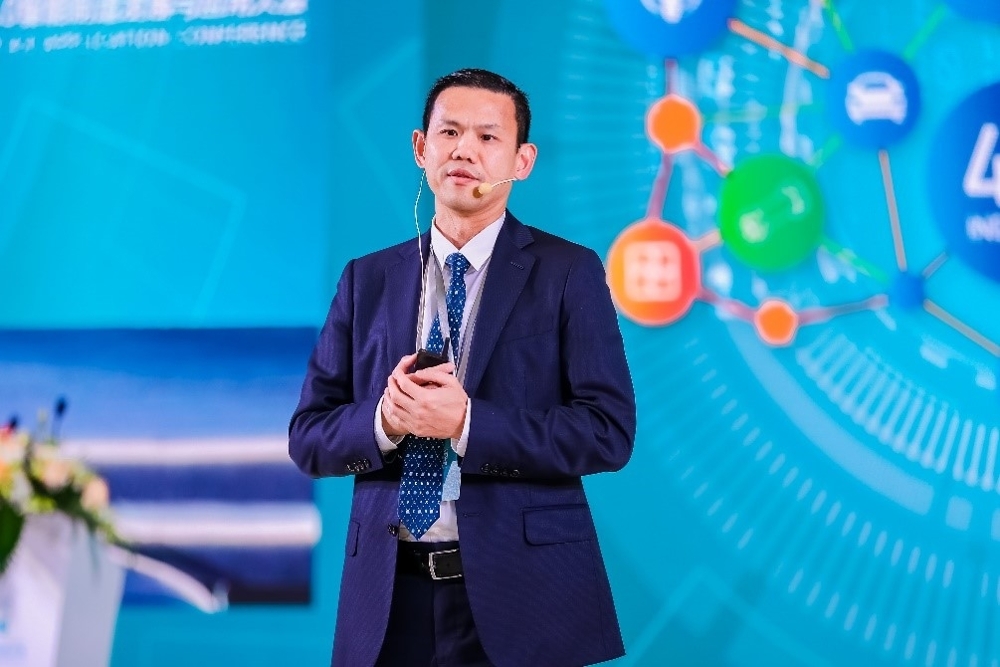 Mr. Zhu Liting from TRUMPF (China) showed how to provide customers with intelligent laser technology services by means of digitalization and intelligence.
通快(中国)的朱立汀先生展示了如何通过数字化,智能化手段为客户提供智能激光技术服务。
Mr. Florian Weihard, CTO from ruhlamat Automation Technologies (Suzhou) Co., Ltd. gave a speech on Flexible Automation.
儒拉玛特苏州首席技术官Florian Weihard就"柔性自动化"进行了讲演。
Mr. Kiran Nataraj, Maker of ShopWorx, introduced and shared the application of digital software - ShopWorx, providing attendees with a masterly speech on Industry 4.0.
ShopWorx创始人Mr. Kiran Nataraj介绍并分享了数字化软件-ShopWorx的应用,为与会人员提供一场工业4.0行业的盛宴。
The development and application of intelligent manufacturing is a process of constantly evolving technology and engineering innovation, and will certainly be a process of promoting the manufacturing industry and even the entire economic transformation. In this process, new relations of production must be formed to create new modes of production, operation and service, which also posed all-round challenges to our industry, including exploration of industrial ecology, technology research and development, production management, operation service, organizational innovation and even standards and norms.
智能制造的发展和应用是一个不断演进的技术和工程创新的过程,也必将是一个推动制造业乃至整个经济转型的过程。在这一进程中,必然形成新的生产关系,创造出新的生产经营、服务模式,也对我们行业提出了全方位的挑战,包括产业生态、技术研发、生产管理、运营服务、组织创新乃至标准规范等众多的方面的探索。
The conference ended with the kick-off ceremony of "Industry 4.0 International Innovation Center". The center plans to set up an open and equal learning and communication platform for Industry 4.0 upstream and downstream enterprises and institutes, and make contributions to the transformation and upgrading of industries and manufacturing in China, which brought the conference to another climax. All the participants agreed that we needed extensive cooperation, interdisciplinary and cross-industry cooperation, and cooperation with scientific research institutes, industries, finance and governments when faced with industrial challenges. Such cooperation will also be effectively carried out across regions, borders and throughout the whole world.
论坛最后以"工业4.0离岸创新协同中心"启动仪式为结尾,创新协同中心拟为工业4.0上下游企业和机构搭建公开,平等的学习交流平台,为中国的工业和制造业的转型升级做贡献,将本次大会推向了又一高潮。与会嘉宾们一致表示为应对行业挑战,我们需要广泛的合作,需要跨学科、跨行业的合作,需要与科学研究机构、产业、金融和政府的合作。这些合作还要跨越地区和跨越国界,在全世界范围内有效地展开。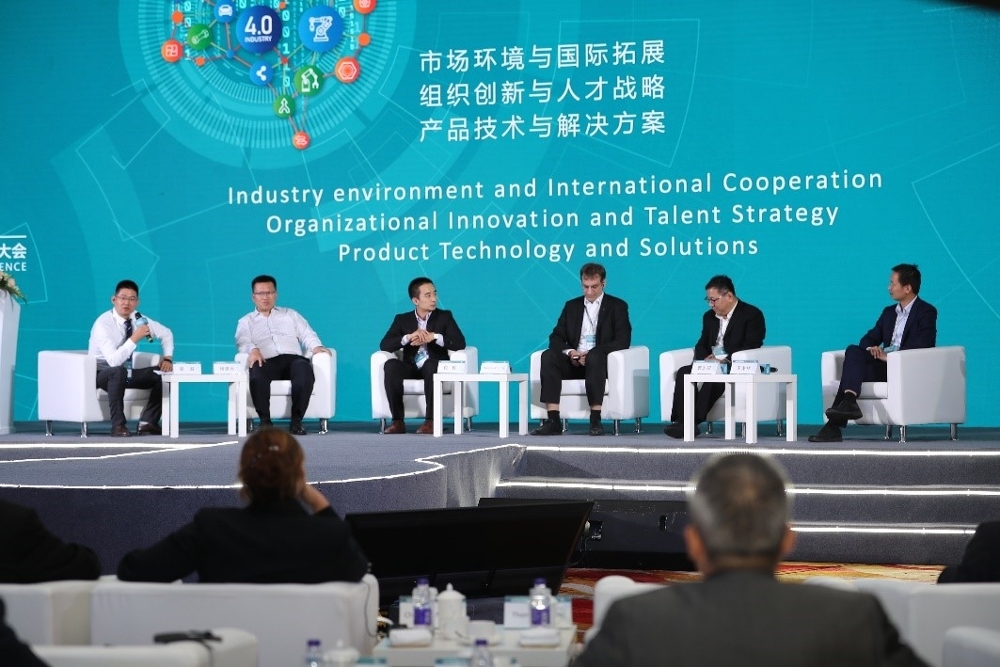 The successful holding of "2018 Industry 4.0 Application Conference", not only provided a platform for communication, but also a meeting of minds and ideas. It built a wisdom platform among industry research institutes, universities and enterprises. It also offered suggestions and advice for rapid development of intelligent and digital manufacturing in China. Let's look forward to our next gathering!
"2018工业4.0智能制造发展应用大会"的顺利召开,不仅是一次交流,更是一次思想碰撞,为行业研究机构、高校与企业界之间搭建了智慧平台,为中国工业制造朝智能化、数字化的快速发展建设献言献策,让我们翘首以待下一次相聚!
ruhlamat Automation Technology (Suzhou) Co., Ltd. is founded in 1998 as a subsidiary of ruhlamat Germany. It mainly focuses on auto parts solutions, laser applications, vario products. During 20-year development in china, ruhlamat Suzhou became partner of many famous automotive parts suppliers, such as Continental, PO, Hella, Nexteer, Valeo, BorgWarner, GKN, Brose, Magna, etc.
Meanwhile, ruhlamat is enhancing its service in other industries, including new energy vehicle, medical and low-voltage electrical equipment, etc. ISO9001 certification and VDA 6.4 guarantee ruhlamat's high quality of service.
儒拉玛特自动化技术(苏州)有限公司是德国总部在中国设立的子公司,始建于1998年。主要经营柔性自动化装配线、激光应用、伺服压机以及工业铝型材。秉承德国公司对品质一贯的高要求和成熟的管理理念,专业于汽车零部件解决方案,已成功为众多全球知名零部件供应商提交了解决方案,如大陆、PO、海拉、耐世特、博泽、法雷奥、博格华纳、纳铁福、麦格纳等(无先后)。在中国近20年的发展,儒拉玛特中国已经成为中国首屈一指的提供交钥匙工程的设备制造商。
在专注汽车零部件行业的同时,我们也在加大对新能源汽车、低压电器和医疗器械等行业的服务。ISO9001和德国汽车工业协会VDA6.4的资格认证,也为更好的服务客户提供了保障。